Chris S. Mast Co. is a licensed, bonded and insured sheet metal contractor based in El Cerrito, CA -- Serving the San Francisco Bay Area since 1997 -- CA License 767127 C-43.

Owner Chris Mast founded the company in 1997, after eight years working as a sheet metal apprentice. His installations include custom copper flashings on Bernard Maybeck, John Hudson Thomas, Julia Morgan and Ratcliff homes. He has also been involved in restoration and remodeling projects including interior and exterior copper and galvanized flashing work throughout the San Francisco Bay Area.

Call us for information including pricing, shipping and lead time for custom fabrications.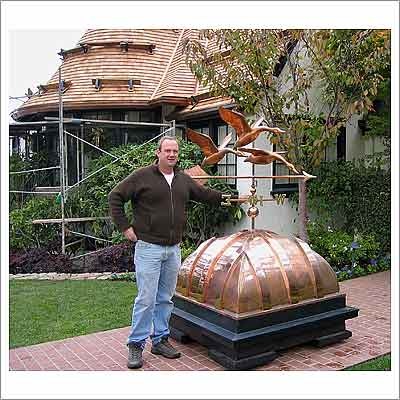 Chris Mast, owner of Chris S. Mast Company, is shown with a restored Copper Clad Belfry Top, ready for installation on a home in Piedmont, CA.